Tortworth Plants - Open Farm Sunday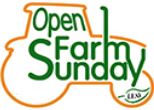 Sunday 5th June - on the Tortworth Estate.
9.30 am until 4.30pm
Tortworth Estate is delighted to, once again, be taking part in the national Open Farm Sunday event. Come and visit us for a day packed full of fun and informative activities, where you can learn more about British farming and the food you eat.
Free Entry. Parking at the Farm Shop. (Sat-Nav postcode GL12 8HF)

Activities to include:
Guided and Self-Guided Tours of Elm Tree Dairy Farm; Farmers' Market; Tortworth Plants Nursery Open for Plant Sales; Refreshments at The Farmer's Table; St. Leonard's Church Open; Children's Activities; Tractor and Trailer Rides; Demonstration Marquee; Skittles Competition; Miniature Garden Competition
New for 2016 - Miniature Garden Competition
Open to all. Judged in three age categories: 6 years and under, 7-11, and 12 years plus.
Create a miniature garden in a standard sized seed tray (approx. 23x37cm), using any materials. Entry is free.
The competition will be held at Tortworth Plants - please bring all entries to the nursery at Old Lodge Farm (opposite the Farm Shop), between 9.30 and 10.30am on Sunday 5th June.
The gardens will be judged on the day, and a prize awarded to the best in each category.

All gardens must be removed by 5pm on Sunday 5th June, or they will be disposed of.
For more information, please contact us.